Today, I will introduce our top rated item – electric barrow, to help you to find the best tools efficiently.
Under the raw material keeps increased, there is a booming time forelectric barrow. From automobiles to tool carts which becomes the development trend and driving force of new economic. Trade Peak innovated electric barrow on 2015, which has already widely used in vegetable bases, moving transportation, warehouse transfer and other places due to the environmental protection and lower cost.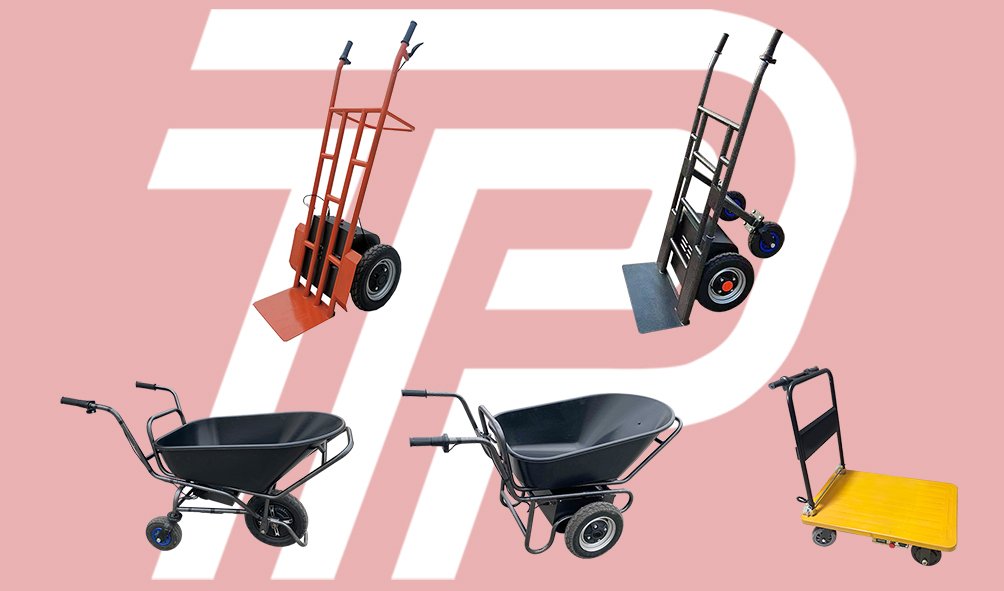 For the above three everyday work situations, here are three types of suitable equipment. The first is an electric barrow that's better for garden use, we promote the standard version wheelbarrow at the beginning of 2021, with a lead-acid battery and DC-Brushless motor, closed hopper could support 200kg load capacity, which is enough for loose loading material, such as soil, leaf, stone, etc. Also can be changed to fencing to adapt wood transporting, and both of the buckets with dumping functions very well.
The operating method is easy. A one-touch accelerator is on the right handlebar to supply the max speed of 4km/h. And for the high collection version of the two-wheel electric barrow QTP152E model and three-wheel electric barrow QTP151E model, I would like to share a comparison base on different functions, like flexibility, power, balance, and economy as follows :Flexibility: QTP152E>QTP151E
Power: QTP152E>QTP151E
Balance: QTP151E >QTP152E
Economy: QTP151E>QTP152E
Both of them are external electric plugs to charge and meet different area plug standards. The working time on full loading is 6 hours to 8 hours maximum, charging time is more than 2 hours, completely satisfied your daily work. Trade Peak's electric barrow collection keeps stronger. To create more power types to match and face different demands, hope to receive any advice from you as well.
Advantages of Electric hand trolley.
The next model is the QTP200E electric hand trolley which is designed by our engineer and with patent, with a 20Ah lead-acid battery, which can be changed to a lithium battery if you want. 500w DC Brushless Motor can make your working powerful, also maintenance-free, the working time of this kind of power is max. 10 hours, and only takes 2 hours to fully charge. Loading capacity is 300kgs with different stuff, with two pneumatic wheels could keep balanced well when full carrying.
As light work equipment, one of the most important elements is an easy operation. One-touch switch for connecting power, 1F+1R control button on right handlebar convenient press-type speed control, 3 level light to instruct battery capacity, with low noise to suitable for house use as well. The body was made of metal material, which matched 3.00-8 pneumatic wheels make powerful supporting, also inclines of up to 20 degrees. A front shovel is customized to meet different demands.
Besides, the most attractive point is the versatility of different designs as follows, no matter what function you request, QTP200E electric barrow can achieve completely. Such as adding additional wheels behind as supporting, foldable plate in front to meet different size goods and more…
OEM service and customized design are welcome, looking forward to your more good ideas, and all of our designs received a lot of nice feedback about performance, if you still struggling with heavy and cumbersome home moving, this electric hand truck is exactly what you need.
How about an electric platform trolley?
The last one is the new model we promoted in April this year, the 300kg electric barrow QTP200P model, with a Lithium 7.5Ah battery and 350w motor. In addition to 1F+1R speed, this model adds the cruise function to be suitable for long-distance transporting, foldable handlebar frame save the space for storage and transport. Working time is 5 hours after fully charged, someone who wants a bigger battery capacity also can be achieved. Thanks to the stable platform and 4 solid wheels supporting it, it's effortless for users to operate.
The advantages of a platform truck must be no limit for the size of transporting goods, we suggest you can use a Nylon rope to fix the goods to keep balance while moving, if you load heavy material, pay attention to turn the cart with a low speed, it will better to control.
Anyway, it is convenient and common in flat transport, such as warehouse transporting and supermarket, of course, we provide customized design of platform size and load capacity to meet more requests.
Above all, are three hot sales electric barrow, for you guys who are focused on light works, why not choose electric barrows to help you to make relax in your life? All of them with stable lead time now, and the sample is available for testing, meanwhile, you can find more details on our website and social media, Trade Peak is waiting to help you all the time.